Summer Camp
PROGRAM DESCRIPTION
Language summer camp
East Point and Decatur
LLIP offers a Language immersion camp with hands on activities for school-age children age 5 to 12. Camp counselors facilitate language experiences that help children build a love for language, culture, and diversity. Each year Little Linguists hosts teachers from around the world. Each weekly session consists of a variety of fun and educational activities. Each week is a stand-alone mini-camp. Therefore, families are free to register for as many or as few weeks as needed. Staff is composed of Spanish-speaking teachers and a few French and Chinese-speaking teachers as well.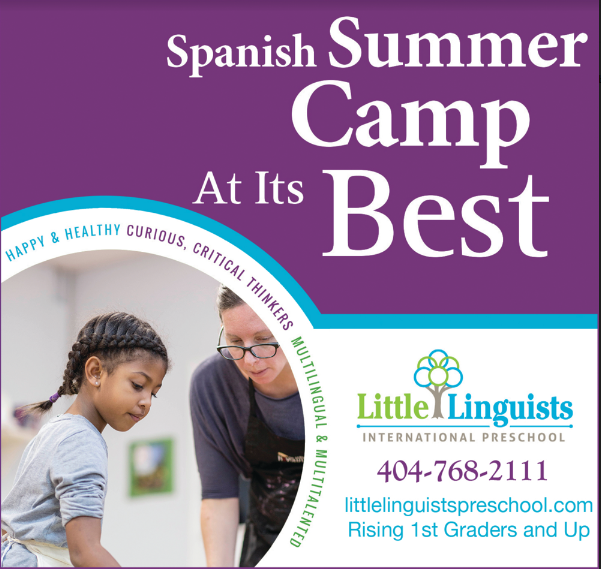 How to Apply
To begin the application click the "Apply Now" button under the registration section down below.
Select weeks of attendance.
Sign the Summer Camp Behavior Policy form, click here.
Sign the Tuition Express Form, click here.
Turn in the signed Summer Camp Behavior Policy and Tuition Express Form before the start of summer camp.
Early Care
East Point and Decatur
7:00 AM to 8:00 AM
*$50 per week
Standard Summer camp Hours
East Point and Decatur
8:00 AM to 3:00 PM
(Healthy Family Style Lunch Included with Vegan Option)
After care
East Point and Decatur
3:01 PM to 6:00 PM
*$50 per week
Registration
Occasionally, we may be able to accept a younger child into our preschool program at market rates, click here to view market rates. All registrations must be paid before the end of each special to receive the full benefits of the offer.
Early Bird Special: April 1st
Regular Rate: May 1st
Late Registration: June 1st